As most of you reading this probably already know, QAGS has a Word called "Who Would Play Him/Her In The Movie?" While I really doubt we're the first game to use that kind of descriptor, it surprises me that it's not suggested in more RPGs. Personally, I define it for nearly every character I play regardless of what system I'm using, and in a lot of cases once I know who I'd cast as the character, everything else falls into place. 
If I'm not really sure what kind of character I want to play, sometimes I'll come up with the WWPHITM? and then build the character around it. This is especially helpful when I want to avoid falling back on one of my "default" character types. Unless the game aims for almost campy adherence to genre conventions or I want to play an archetypal character, I usually try to avoid the most obvious choices. So, for example, if I'm making up a character for M-Force, I'll skip right past Bruce Campbell and Sarah Michelle Gellar (we've all seen plenty of Ash and Buffy clones already) and pick somebody like Owen Wilson, who I immediately picture as the loose cannon type. Following that thread, I come up with an easy-going beach bum type--maybe even a surfer dude--who's a little impulsive and reckless when it comes to monster hunting, possibly because he really doesn't have much to lose. If I'm not afraid of a little cliche, I can even throw in a brutally monster-eaten family or love interest to add a layer of angst behind the carefree exterior. From there, the character pretty much writes itself. 
Part of the usefulness of WWPHITM? lies in the fact that, unlike most game stats, it's not about the character's abilities, it's about personality. You're not going to get any points or bonuses out of it, so the worst min/maxer doesn't have any incentive beyond describing the character. Sometimes having this kind of personality template even encourages combat munchkins to jump in on parts of the game that don't involve hitting things with a pointy stick. 
One of the things I like most about WWPHITM?, and what makes it a useful tool for GMs as well as players, is that it's a good way of avoiding one-note characters. Since--at least if you don't pick someone who's seriously typecast--you've probably seen a particular actor playing a bunch of different types of characters, you've got a larger frame of reference for how the character might act than if you've just got some stats and a little background. This goes double for NPCs, who the GM often has to make interesting on the fly. Most gruff blacksmiths and mysterious wizards are interchangeable; unless one of them's got an interesting name, players might be hard pressed to remember which is which later on in the campaign. If the GM plays one gruff blacksmith as John Goodman and the other as Ian McShane (or for that matter, uses these two actors as templates for the mysterious wizards), the players are going to be much more likely to remember them as something other than Stock Character #37. 
Even if you're not playing QAGS, try thinking of WWPHITM? next time you make a character or NPC. If you're like me, you'll find it so useful you'll play casting director for your whole game. 
I'm busy with a few other projects this week, but since I don't want to break my recent streak of regular Monday posts, I'm going to re-post something from the old Death Cookie archives. A lot of our newer fans may not know this, but early on Hex went with a brilliant marketing strategy of "let's be dicks and alienate our potential customers" and this article (which we also did as a panel at a couple of conventions) is an example of that. We've mellowed since then, but the article 

makes some points that will always be true of some gamers (not you, of course).
Working for a game company has its advantages. True, there aren't a lot of half-naked coeds running around and we don't get much sun, but we do get paid for sitting around playing games all day. Cons pay for us to attend and then give us free shit. People ask us for our autographs while we're there and we have access to all the behind-the-scenes crap. There are a lot of great things about this job, but all of them can't overcome the one thing that makes our lives miserable. Of course, we're talking about the gamers.
Category: Interviews
Created on Wednesday, 06 August 2014
Written by Stacy Forsythe
An Interview with GILGAMESH! Writer Leighton Connor, Conducted by Stacy Forsythe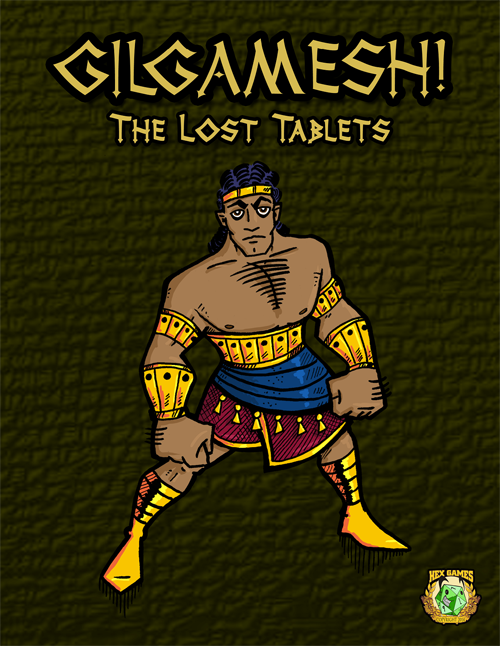 The world's oldest epic, The Epic of Gilgamesh, was written in its standard version sometime between 1300 and 1000 BC. Much more recently, in 2012, Leighton Connor adapted the epic into the RPG adventure GILGAMESH! Now, two years later, Leighton has followed that up with GILGAMESH!: The Lost Tablets, a supplement that includes additional plot summaries, characters, and GM notes.  
I asked Leighton about these two books, and here's what he had to say.  
1. How did you come to discover the Epic of Gilgamesh?
Leighton Connor: I'd heard the name but I never really took notice of it until my wife was in seminary, and I audited an Old Testament class. There was an excerpt from the epic in our textbook. I got somewhat obsessed with Gilgamesh, based on that excerpt, though I didn't actually read the whole story until years later. 
I next encountered Gilgamesh in 2008 when I became a teacher. The first excerpt in our World Literature textbook was, fittingly enough, from the Epic of Gilgamesh. This time I was motivated to go out and get a copy of the epic, specifically the Stephen Mitchell translation. I read it and, what do you know, I loved it.
Read more: Seven Questions About GILGAMESH! The Lost Tablets
Last week, I talked about the fact that character sheets are inherently incomplete and that it might be a good idea to rethink them. This week I'm going to float a new definition of a character sheet: "A character sheet should describe the relevant traits of a character at a particular point in time and helps the GM and player understand the character's role in the game." Since that doesn't sound all that different from the standard definition (and since stopping here would make for a short column), I'll expand on that. 
First off, the character sheet describes relevant traits. Relevant to what? Two things: The game and the character. 
"You are not your job. You're not how much money you have in the bank. You're not the car you drive. You're not the contents of your wallet. You're not your fucking khakis."--Tyler Durden, Fight Club
If Tyler Durden were a GM, he might add that you are not your Charisma, you're not your Gimmick, you're not your Light Side Points, you're not your Cheesemaking Proficiency, even that you're not your Yum Yums. And I certainly hope that you're not your fucking equipment list; there's a special place in gamer Hell for those people. 
Anyway, the point is that there's a lot more to a character than the stuff that's written on his character sheet. Most modern players will think that's a pretty obvious statement, and it is as long as we're talking about stuff that we generally classify as "flavor": personality, physical appearance, style, and even things like personal relationships and lifestyle to a certain extent. I say "to a certain extent" because at some point we're used to seeing those last two traits, and ones like them, represented on the character sheet. Sure you don't need a stat for knowing "little people" or for living in a crappy apartment, but if you want the Governor to be your old college buddy or to be a wealthy jet-setter who lives on a palatial estate, you need a "Contacts" or "Resources" Advantage/Merit/Gimmick/Aspect/Whatever.